Twelve Demons & Death Point

Information
Volume
15
Chapter
64
Author
Kenji Saitō
Artist
Nao Akinari
Publisher
Yen Press (JP)
Magazine Issue
Monthly Dragon Age May 2016
Release Date
April 9, 2016
Chronology
Previous
Next
Twelve Demons & Death Point is the sixty-fifth chapter of the Seven Magicians series, released on April 9, 2016 in Monthly Dragon Age May 2016 issue and later compiled in the fifteenth volume on August 9, 2016.
I
nside a large castle,
Radix Astil
recalls her experience of
Arata
's magic, contemplating if she was frightened by his strength. Nevertheless, she resolves to continue monitoring his battles before being approached by two individuals,
Arbariccia
and
Rubine
, members of Malebranche. The two inquiry of Radix's interest in the Demon Lord Candidate, however the grimoire tries to deny any curiosilty but the deception is quickly detected by Rubine, the strongest of Malebranche, becoming provoked until Arbarrica calms her. Nontheless, the three continue their discussion about Arata prompts Arbariccia to scout the Demon Lord Candidate using her magic before Rubine suddenly decides to meet him herself.  Initially, Radix is concerned that Rubine will be the initial opponent because of her strength but eventually relents, reasoning that Arata would not be a suitable vessal for her master if he did not confront the Malebranche. Meanwhile, Arbarrica examines
Lilith
while noting in anticipation of the presence of several interesting individuals.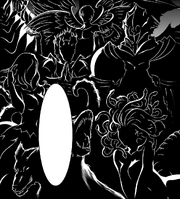 Arriving before a lake,
Okto
explains to the party their location as the Library of the Underworld which will guide them to the Second Circle. However, the group will be unable to return to any previous levels while descending to the Ninth Circle which rests the Demon Lord. Furthermore, they will more than possibly confront members of the Malebranche throughout the peregrination whom possesses the Ilias Sisters. The Malebranche were twelve mage that entered Dante's Gate and transformed into demons in pursuit of their researches. In spite of the revelation, the Demon Lord Candidate and the Trinity Seven are content remaining human, particularly Arata who delights in stripping their clothes to Lilith's chagrin. Afterwards, the party prepare to continue their journey until they are suddenly drawn into a dark hole that appears below them before losing consciousness...
Awakening in a bedroom alongside Radix, the grimoire seductively begins to embrace her master...
Suddenly roused by
Judecca
, Arata discovers himself with
Selina
in front of a desolate church next to Rubine who reveals that their current location is within the Eigth Circle. After introducing themselves, Rubine then attempts to establish Arata as her property who is initiallly interested but nevertheless refuses her proposal. As such, the Demon Commander decides to use force to establish her dominance which an expectant Arata accepts. However, Judecca analyzes that his probability of victory is small against her strength, prompting Selina to offer her support as well. After allowing the two to prepare, Rubine summons a reaper to strike them but Arata barely manages to deflect the strike. Subsequently, the Malebranche gathers additional reapers to assult them once more, but the Demon Lord Candidate once again manages to protect them both from the onslaught. Rubine questions them if the two would prefer to continue which Arata confirms, determined to rescue
Ilia
's sisters after defeating her. However, the Commander thena assembles an army of reapers before preparing to continue the battle.
Characters
Edit
The cover of Monthly Dragon Age May 2016 cover featured Arata & Levi, along with a poster of Lieselotte. Additionally, Ilia in the fourteenth Seven Magicians cover and Levi in the first Levi Story cover were also featured as well.
Several events from the previous chapter are referenece:

While contemplating in the castle, Radix recalls her experience being overwhelmed by Arata's magic.
The party's goal to confront the members of Malebranch in order to rescue Ilia and Okto's sisters who were sealed by Radix.

Before confronting Rubine, Judecca provides an analysis of her overwhelming strength to her master, which Arata notes that the disadvantage was larger than his battle against his senior. During the skirmish on Sky Library, the Demon Lord Weapon had also stated his probability of victory was minuscule in Aeshma & Malkuth.
After protecting Selina from Rubine's assault, Arata states that one of his duties is to protect her while the elder sister is away, referring to Lieselotte's absense in Sword Magus & Dark Castle.
Community content is available under
CC-BY-SA
unless otherwise noted.