Administer & A Ring

Information
Volume
01
Chapter
01
Author
Kenji Saitō
Artist
Nao Akinari
Publisher
Fujimi Shobo (JP)

Yen Press (US)

Magazine Issue
Monthly Dragon Age February 2011
Release Date
January 8, 2011
Chronology
Previous
Next
Administer & A Ring is the second chapter of Trinity Seven, initially serialized in Monthly Dragon Age February 2011 issue on January 8, 2011 and later compiled in the first volume on July 7, 2011. 
Plot

[

]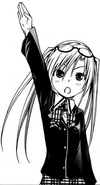 A young girl with twin tails runs through the halls throwing flyers and announcing the arrival of a transfer student rumoured to possess powers of a Magic King class before bumping into the actual exchange student, Arata, to her shock. 
Later, Lilith formally introduces Arata to her class, much to his surprise after discovering she is a teacher. The prior reporter girl, introduced as Selina, then proceeds to ask Arata several personal questions before inquiring if he casted the Magic King spell World Reconstruction. After he indirectly confirms that he has, the class becomes excited at the prospect of a Magic King Candidate appearing.
Afterwards, Arata and Lilith meet the Headmaster, who is amused at the earlier commotion despite Lilith's concerns. Welcoming Arata to the Royal Biblia Academy, the Headmaster explains that the academy is a secret organization funded by donations from various countries to training mages and investigate magic related incidents in secrecy. Arata, determined to become a Magus to save Hijiri, asks if there is a shortcut to become one. In spite of Lilith's objections, the Headmaster suggests that he meets with the Trinity Seven, seven female mages who stand at the top of their respective fields, as well as revealing that Lilith is one of them. 
Following their discussion and teasing of Lilith, Arata notices a girl hiding above on the ceiling. Impressed that he noticed her presence, the girl introduces herself as Levi Kazama, as well as a ninja and another member of Trinity Seven. Curious of the other members, they manage to catch a glimpse of Mira Yamana and Akio Fudo heading on a mission. Responding to Arata's comments that the Trinity Seven are all girls, Levi explains that magic is the study of mentality and emotions. Because boys mostly excelled in theory and logic, they are not quite able to grasp the concept of magic. Furthermore, after their banter causes Lilith to become embarrassed, Levi also remarks that Lilith has changed, nothing that she was more of an "ice queen" and suggesting that Arata is special.
Resting in his room, Arata wonders of the grimoire which reveals itself around his neck. Following it's suggestion to take a bath, he discovers a nude girl who greatly resembles Hijiri in the male bathroom. While the girl seemingly does not mind his appearance, Arata nevertheless abruptly leaves the bath, as well as coincidentally meeting (and distressing) Lilith. After he explains to her that he saw Hijiri, Lilith clarifies that the girl was actually Arin, before realizing the current situation and chastises her using the male baths, although Arin comments that she does not mind much to Lilith's chagrin. While Lilith helps Arin dress, Arata discusses with the grimoire of Arin's uncanning similarity to Hijiri, believing that Arin is connected to his cousin. Likewise, he also suspects that the Trinity Seven will be important to him as well. Suddenly, an embarrassed Lilith demands that he put on pants, causing him to nonchalantly remember.
Characters
[
]
Trivia
[
]
During Master Biblia's discussion of the Trinity Seven, Selina can be seen among the members. In actuality, her twin sister Lieselotte is one of the Trinity Seven.
In the initial print, Mira was originally depicted as having short wavy hair; her appearance was later updated in the volume version to resemble more of her current appearance.